Improving your BOTTOM LINE is the reason we developed the GrowerSELECT® brand. From complete ventilation and feeding systems to single replacement parts, choosing GrowerSELECT means you pay less for TOP QUALITY equipment.  We manufacturer and market GrowerSELECT direct to you, the end user, through an efficient distribution system of over 70 local stores.   

Hog Slat's team of engineers and QC professional are dedicated to ensuring GrowerSELECT® products meet your expectations. We are so confident in GrowerSELECT® quality our standard warranty is 

TWO YEARS

.
---
GrowerSELECT® Feed System Diagrams
GrowerSELECT® Feed System Parts OEM Cross Reference Sheet 
GrowerSELECT® Warranty Terms and Conditions
---
---
GrowerSELECT FEED SYSTEM DIAGRAMS

GrowerSELECT Single Unloader Feed System




GrowerSELECT Tandem Unloader Feed System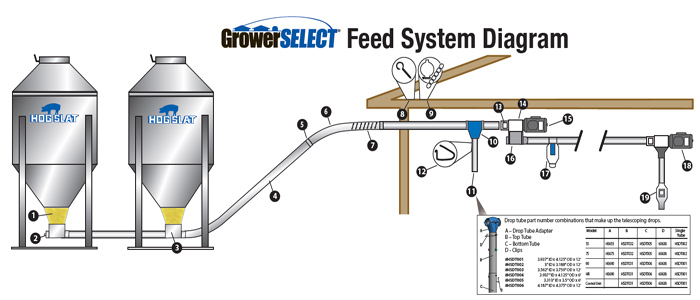 GrowerSELECT WARRANTY TERMS 
Hog Slat will repair or replace, at its option, any GrowerSELECT® item that fails during the warranty periods outlined below.  Hog Slat shall not be liable for any consequential or special damages related to these products including, but not limited to, loss of time or use, inconvenience or animal or poultry performance.   Failure to install the equipment according to product manuals or perform routine maintenance according to product manuals voids all warranties on GrowerSELECT products.

The warranty is limited to original buyer and is not transferable to subsequent users of equipment.

Feed Delivery Systems (2 Years)
Boots, unloaders, anchor bearings, hoppers, drive units, PVC feed pipe, PVC feed line elbows, feed level controls and control pans, Chain Disk system drive units, hoppers, corners, Chain and Control Unit    

Auger and Poultry Metal Feed Pipe (10 Years)

Poultry Feed Pans (10 Years Total)
Complete Replacement (Years 1-5)
Prorated Replacement (Years 6-10)

RIO Nipple Waterers (2 Years)
Requires filter with minimum 60 mesh to be installed up line of the RIO nipples. Warranty does not cover damage or leaks caused by water containing sediment, iron, calcium or other impurities.  Use of corrosive chemicals in the water supply voids the warranty. O-Rings and screens are not covered by warranty.